TANGERINE DREAM AUTO
TAKE ADVANTAGE OF THIS FURIOUSLY FAST FLOWERING VERSION OF OUR CLASSIC TANGERINE DREAM
Tangerine Dream x Autoflower #1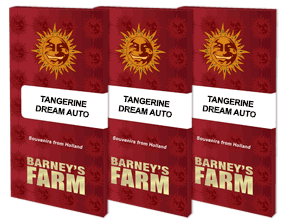 TANGERINE DREAM AUTO™ Cannabis Seeds
TANGERINE DREAM AUTO™ has been developed as a treat for lovers of our award winning Coffeshop classic TANGERINE DREAM™. The best of both worlds for smokers and growers and a fun plant to grow.
TANGERINE DREAM AUTO™ has a 70-day finishing time from germination is remarkably short, and the 70cm high plants with their strong and numerous side branches, yield an impressive crop. Now even quicker and easier to grow, this sativa dominant autoflowering strain offers the same tangy, intense sweet citrus aromas and flavours with slightly less THC and a CBD boost creating a balanced cerebral relaxing effect.
TANGERINE DREAM AUTO™ Cannabis Seeds Strain Specifications
Feminised
Autoflowering
Indoor/outdoor
.
Tangerine Dream x Autoflower #1
Balanced, Cerebral, Relaxing, Comforting
500 gr/m²
500
70 - 75
60-70cm
60-70cm
60-70cm
Short
40%
60%
Mostly Sativa
Medium
Yes
Tangy, Citrus, Intense
Mandarins, Citric, Sweet
4
4
3
3
4
15 ltr
Hot & Temperate
high
1
DISCLAIMER
All cannabis seeds at Barney's Farm are solely for personal use intended only for adults (over 18 years old). We do not supply seeds to large scale or commercial growers. we reserve the right to refuse sale if we suspect this term is being breached.
SPECIFICATION
Feminised
Autoflowering
Indoor/outdoor
.
Tangerine Dream x Autoflower #1
Balanced, Cerebral, Relaxing, Comforting
500 gr/m²
500
70 - 75
60-70cm
60-70cm
60-70cm
Short
40%
60%
Mostly Sativa
Medium
Yes
Tangy, Citrus, Intense
Mandarins, Citric, Sweet
4
4
3
3
4
15 ltr
Hot & Temperate
high
1