ZKITTLEZ OG AUTO
ENJOY THE POWER OF WEST COAST GENETICS WITH OUR ZKITTLEZ OG CROSS
Zkittlez x OG Kush x BF Super Auto #1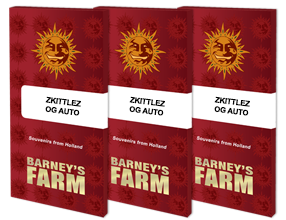 ZKITTLEZ OG AUTO™ Cannabis Seeds
Fruity flavours combined with our prized OG have been painstakingly worked together into something we never thought possible in an autoflower. ZKITTLEZ OG AUTO™ is a smashing combination of gorgeous genetics combine to deliver a cosmic calming experience. Unbelievable aromas abound, and before you know it you'll be holding her rare fruits in your hands.
After only 70 days growing time you'll be overjoyed with the performance of this autoflowering champion. Oozing with THC her succulent sugar coated buds are a joy to behold and will neutralise your pains away before dropping you into a different, more dreamy dimension. Make sure you don't miss out on this extravaganza of US genetics in autoflower form.
Growing ZKITTLEZ OG AUTO™ indoors you can expect magnificent yields of up to 600g per m2, quite a feat for an auto. Outdoors yields of up to 400g per plant have been reported.
ZKITTLEZ OG AUTO™ Cannabis Seeds Strain Specifications
Feminised
Autoflowering
.
Zkittlez x OG Kush x BF Super Auto #1
Calming, Focused, Uplifted, Alert, Happy, Relaxed
up to 400g per plant
600 gr/m²
70 - 77
100-130cm
100cm
130cm
Medium
50%
50%
Indica/Sativa
Sweet Sour Candy, Tropical Fruit, Berry, Grape
Sweet, Tropical Earth, Fruity, Berry, Skunky Lemon
SPECIFICATION
Feminised
Autoflowering
.
Zkittlez x OG Kush x BF Super Auto #1
Calming, Focused, Uplifted, Alert, Happy, Relaxed
400g per plant
600 gr/m²
70 - 77
100-130cm
100cm
130cm
Medium
50%
50%
Indica/Sativa
Sweet Sour Candy, Tropical Fruit, Berry, Grape
Sweet, Tropical Earth, Fruity, Berry, Skunky Lemon