VANILLA KUSH
PLUNGE YOURSELF INTO A WORLD OF VANILLA DELIGHT WITH THIS POPULAR HARD HITTING KUSH
Cup Winner
Afghani Kush x Kashmir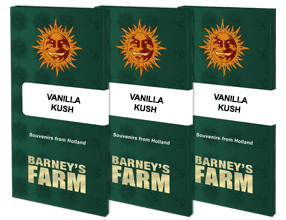 VANILLA KUSH™ Cannabis Seeds
VANILLA KUSH™ combines a fast flowering Afghan strain with the unique Kashmir seeds collected by Barneys in the mid-1980s. VANILLA KUSH™ marries the Indica strength of the best Afghani genetics with the high mountain aromas of the Kashmir valley.
VANILLA KUSH™ grows to a medium height with bushy side branches. These give healthy yields of dense colas, covered with beautiful red and gold calyx. The flowers then cure to produce magnificent buds that encapsulate the scent of wild vanilla and pine. The result is a strong, long lasting and relaxing high.
VANILLA KUSH™ Cannabis Seeds Strain Specifications
Feminised
Normal
.
Afghani Kush x Kashmir
Euphoria, Happy, Calm, Sleepy
600 gr/m²
55 - 60
September
3rd-4th week
90/100cm
90/100cm
100cm
Medium
80%
20%
Mostly Indica
Sweet Molasses, Vanilla, Sweet Lavender, Citrus, Earthy
Vanilla, Molasses, Floral, Lavender
SPECIFICATION
Feminised
Normal
.
Afghani Kush x Kashmir
Euphoria, Happy, Calm, Sleepy
600 gr/m²
55 - 60
September
3rd-4th week
90/100cm
90/100cm
100cm
Medium
80%
20%
Mostly Indica
Sweet Molasses, Vanilla, Sweet Lavender, Citrus, Earthy
Vanilla, Molasses, Floral, Lavender