UTOPIA HAZE
ESCAPE THE WORLD WITH OUR PRIZE-WINNING BRAZILIAN HAZE HEART WARMER
Cup Winner
Brazilian landrace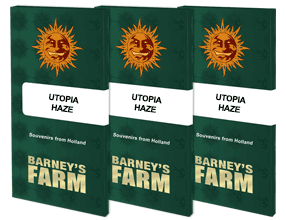 UTOPIA HAZE™ Cannabis Seeds
UTOPIA HAZE™ is the result from generations of backcrossing and selection from a prized Brazilian landrace. In its first Cannabis cup the UTOPIA HAZE™ took both Cannabis and Sativa cups, and was called the overall favourite of the event.
This is a tall mould and disease resistant plant, growing up to 130cm, and boasts a high yield of 650g per square metre. It bursts with citrus and mint flavours, and will give you a long lasting cerebral Sativa high.
UTOPIA HAZE™ Cannabis Seeds Strain Specifications
Feminised
Normal
.
Brazilian landrace
Cerebral Lift, Hazy Relaxation, Sleepy
650 gr/m²
70 - 75
October
3rd-4th week
110/130cm
110cm
130cm
Medium
10%
90%
Mostly Sativa
Fruity, Spicy, Mint, Citrus
Fruity, Woody, Pungent, Earthy
SPECIFICATION
Feminised
Normal
.
Brazilian landrace
Cerebral Lift, Hazy Relaxation, Sleepy
650 gr/m²
70 - 75
October
3rd-4th week
110/130cm
110cm
130cm
Medium
10%
90%
Mostly Sativa
Fruity, Spicy, Mint, Citrus
Fruity, Woody, Pungent, Earthy