UTOPIA HAZE
ESCAPE THE WORLD WITH OUR PRIZE-WINNING BRAZILIAN HAZE HEART WARMER
Cup Winner
Brazilian landrace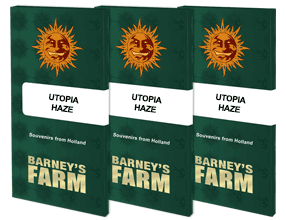 UTOPIA HAZE™ Cannabis Seeds
UTOPIA HAZE™ is the result from generations of backcrossing and selection from a prized Brazilian landrace. In its first Cannabis cup the UTOPIA HAZE™ took both Cannabis and Sativa cups, and was called the overall favourite of the event.
This is a tall mould and disease resistant plant, growing up to 130cm, and boasts a high yield of 650g per square metre. It bursts with citrus and mint flavours, and will give you a long lasting cerebral Sativa high.
UTOPIA HAZE™ Cannabis Seeds Strain Specifications
Feminised
Normal
Indoor/outdoor
.
Brazilian landrace
Cerebral Lift, Hazy Relaxation, Sleepy
650 gr/m²
70 - 75
October
3rd-4th week
110/130cm
110cm
130cm
Medium
10%
90%
Mostly Sativa
No
Fruity, Spicy, Mint, Citrus
Fruity, Woody, Pungent, Earthy
DISCLAIMER
All cannabis seeds at Barney's Farm are solely for personal use intended only for adults (over 18 years old). We do not supply seeds to large scale or commercial growers. we reserve the right to refuse sale if we suspect this term is being breached.
SPECIFICATION
Feminised
Normal
Indoor/outdoor
.
Brazilian landrace
Cerebral Lift, Hazy Relaxation, Sleepy
650 gr/m²
70 - 75
October
3rd-4th week
110/130cm
110cm
130cm
Medium
10%
90%
Mostly Sativa
No
Fruity, Spicy, Mint, Citrus
Fruity, Woody, Pungent, Earthy