TRIPLE CHEESE
SEIZE THE CHEESE! MIND BLOWING TRIPLE CHEESE EXTRAVAGANZA FOR THE CHEESE LOVER
Cup Winner
Old Cheese x Blue Cheese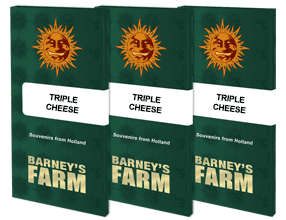 TRIPLE CHEESE™ Cannabis Seeds
TRIPLE CHEESE™ is the crossing of our BLUE CHEESE™ with the powerful Original Cheese (Skunk#1 phenotype), created over many generations of selections and back crossing to give this amazing strain. TRIPLE CHEESE™ is everything we wanted to create and more.
But wait, it gets better; this plant is easy to grow and produces dense buds with a remarkable blueberry and Old Cheese taste. The indisputable dank cheese flavour dominates this strain, and packs a punch.
TRIPLE CHEESE™ Cannabis Seeds Specifications
Feminised
Normal
Indoor/outdoor
.
Old Cheese x Blue Cheese
Tingly Arousal, Body High, Long Lasting, Happy
600 gr/m²
50 - 55
September
2nd-3rd week
90/100cm
100cm
Medium
80%
20%
Mostly Indica
No
Cheesy, Herbal, Sweet, Sour, Dank
Sweet Cream Cheese, Pungent
DISCLAIMER
All cannabis seeds at Barney's Farm are solely for personal use intended only for adults (over 18 years old). We do not supply seeds to large scale or commercial growers. we reserve the right to refuse sale if we suspect this term is being breached.
SPECIFICATION
Feminised
Normal
Indoor/outdoor
.
Old Cheese x Blue Cheese
Tingly Arousal, Body High, Long Lasting, Happy
600 gr/m²
50 - 55
September
2nd-3rd week
90/100cm
100cm
Medium
80%
20%
Mostly Indica
No
Cheesy, Herbal, Sweet, Sour, Dank
Sweet Cream Cheese, Pungent