TRIPLE CHEESE
SEIZE THE CHEESE! MIND BLOWING TRIPLE CHEESE EXTRAVAGANZA FOR THE CHEESE LOVER
Cup Winner
Old Cheese x Blue Cheese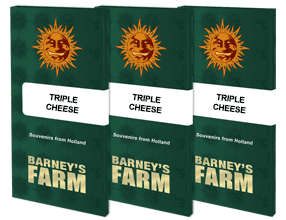 TRIPLE CHEESE™ Cannabis Seeds
TRIPLE CHEESE™ is the crossing of our BLUE CHEESE™ with the powerful Original Cheese (Skunk#1 phenotype), created over many generations of selections and back crossing to give this amazing strain. TRIPLE CHEESE™ is everything we wanted to create and more.
But wait, it gets better; this plant is easy to grow and produces dense buds with a remarkable blueberry and Old Cheese taste. The indisputable dank cheese flavour dominates this strain, and packs a punch.
TRIPLE CHEESE™ Cannabis Seeds Strain Specifications
Feminised
Normal
.
Old Cheese x Blue Cheese
Tingly Arousal, Body High, Long Lasting, Happy
600 gr/m²
50 - 55
September
2nd-3rd week
90/100cm
100cm
Medium
80%
20%
Mostly Indica
Cheesy, Herbal, Sweet, Sour, Dank
Sweet Cream Cheese, Pungent
SPECIFICATION
Feminised
Normal
.
Old Cheese x Blue Cheese
Tingly Arousal, Body High, Long Lasting, Happy
600 gr/m²
50 - 55
September
2nd-3rd week
90/100cm
100cm
Medium
80%
20%
Mostly Indica
Cheesy, Herbal, Sweet, Sour, Dank
Sweet Cream Cheese, Pungent