TANGERINE DREAM ™
EXPAND YOUR MIND AND CALM YOUR BODY WITH THIS DREAMY CUP WINNING SATIVA
Cup Winner
G13 x Afghan x Neville's A5 Haze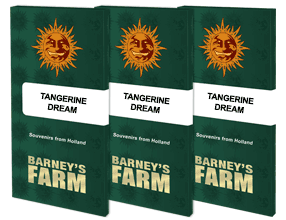 TANGERINE DREAM™ Cannabis Seeds
TANGERINE DREAM™ is an sativa dominant strain that offers tangy Tangerine aromas and flavours, giving an instant relaxing and cerebral high. This plant has a short flowering time at just 65 days; however it will need supporting in its final weeks.
TANGERINE DREAM™ grows up to a metre tall, and its strong side branches yield an impressive 600g per square meter. Colas grow large and heavy, beautifully coated with red and orange trichomes.
TANGERINE DREAM™ Cannabis Seeds Specifications
Feminised
Normal
Indoor/outdoor
.
G13 x Afghan x Neville's A5 Haze
Body Relaxing, Cerebral, Euphoria, Hungry
600 gr/m˛
60 - 65
October
1st-2nd week
90/100cm
100cm
40%
60%
No
Orange, Berry, Citrus, Sugary, Tropical
Intense Citrus, Berries
SPECIFICATION
Feminised
Normal
Indoor/outdoor
.
G13 x Afghan x Neville's A5 Haze
Body Relaxing, Cerebral, Euphoria, Hungry
600 gr/m˛
60 - 65
October
1st-2nd week
90/100cm
100cm
40%
60%
No
Orange, Berry, Citrus, Sugary, Tropical
Intense Citrus, Berries