TANGERINE DREAM
EXPAND YOUR MIND AND CALM YOUR BODY WITH THIS DREAMY CUP WINNING SATIVA
Cup Winner
G13 x Afghan x Neville's A5 Haze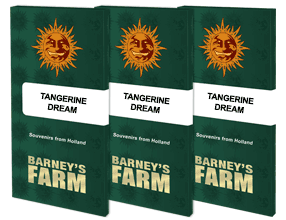 TANGERINE DREAM™ Cannabis Seeds
TANGERINE DREAM™ is an sativa dominant strain that offers tangy Tangerine aromas and flavours, giving an instant relaxing and cerebral high. This plant has a short flowering time at just 65 days; however it will need supporting in its final weeks.
TANGERINE DREAM™ grows up to a metre tall, and its strong side branches yield an impressive 600g per square meter. Colas grow large and heavy, beautifully coated with red and orange trichomes.
TANGERINE DREAM™ Cannabis Seeds Strain Specifications
Feminised
Normal
Indoor/outdoor
.
G13 x Afghan x Neville's A5 Haze
Body Relaxing, Cerebral, Euphoria, Hungry
600 gr/m²
60 - 65
October
1st-2nd week
90/100cm
90/100cm
90/100cm
Medium
40%
60%
Mostly Sativa
No
Orange, Berry, Citrus, Sugary, Tropical
Intense Citrus, Berries
DISCLAIMER
All cannabis seeds at Barney's Farm are solely for personal use intended only for adults (over 18 years old). We do not supply seeds to large scale or commercial growers. we reserve the right to refuse sale if we suspect this term is being breached.
SPECIFICATION
Feminised
Normal
Indoor/outdoor
.
G13 x Afghan x Neville's A5 Haze
Body Relaxing, Cerebral, Euphoria, Hungry
600 gr/m²
60 - 65
October
1st-2nd week
90/100cm
90/100cm
90/100cm
Medium
40%
60%
Mostly Sativa
No
Orange, Berry, Citrus, Sugary, Tropical
Intense Citrus, Berries