TANGERINE DREAM
Expand your mind and calm your body with this dreamy cup winning Sativa
Cup Winner
G13 x Afghan x Neville's A5 Haze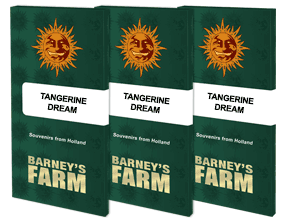 Tangerine Dream™ Cannabis Seeds
Type: Feminised strain
Tangerine Dream strain is an sativa dominant strain that offers tangy Tangerine aromas and flavours, giving an instant relaxing and cerebral high. This plant has a short flowering time at just 65 days; however it will need supporting in its final weeks.
Tangerine Dream grows up to a metre tall, and its strong side branches yield an impressive 600g per square meter. Colas grow large and heavy, beautifully coated with red and orange trichomes.
Tangerine Dream strain cannabis seeds are sold strictly for souvenirs, storage, and genetic preservation.
Tangerine Dream™ Cannabis Seeds Strain Specifications
Feminised
G13 x Afghan x Neville's A5 Haze
Normal
60%
40%
60 - 65
1st-2nd week - October
90/100cm
up to 600 gr/m²
up to 90/100cm
Orange, Berry, Citrus, Sugary, Tropical
Intense Citrus, Berries
Body Relaxing, Cerebral, Euphoria, Hungry
SPECIFICATION
Feminised
G13 x Afghan x Neville's A5 Haze
Normal
60%
40%
60 - 65
1st-2nd week - October
90/100cm
up to 600 gr/m²
up to 90/100cm
Orange, Berry, Citrus, Sugary, Tropical
Intense Citrus, Berries
Body Relaxing, Cerebral, Euphoria, Hungry