SWEET TOOTH #1
ENTER A DELICIOUS WORLD OF SPELLBINDING RELEASE WITH THIS SWEET AND SPECIAL STAR
Cup Winner
Afghani x Nepalese x Hawaiian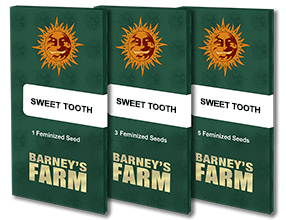 SWEET TOOTH #1™ Cannabis Seeds
SWEET TOOTH #1™ took the world by storm in the early 2000's, winning three successive Cannabis Cups. Acclaimed for its intense sweet grapefruit flavour and excellent production the SWEET TOOTH #1™ strain grows compact and is fast flowering, producing a tremendous yield of highly potent buds, dripping with enormous resin content.
Branches will need supporting in the final weeks of flowering. SWEET TOOTH #1™ produces a hardy mould resistant plant and will adapt to extreme conditions making it easily accessible to all levels of grow.The sweet grapefruit flavours of SWEET TOOTH #1™ delight both connoisseur and novice growers and a must have for collectors.
SWEET TOOTH #1™ Cannabis Seeds Strain Specifications
Feminised
Normal
.
Afghani x Nepalese x Hawaiian
Calms Nerves, Happy, Relaxing
up to 800 +
550 gr/m²
800+
55 - 60
September
3rd-4th week
80/90cm
90cm
100-140cm
Medium
70%
30%
Mostly Indica
Grapefruit, Ripe Mango, Earthy
Woody, Flowery, Berries
SPECIFICATION
Feminised
Normal
.
Afghani x Nepalese x Hawaiian
Calms Nerves, Happy, Relaxing
800 +
550 gr/m²
800+
55 - 60
September
3rd-4th week
80/90cm
90cm
100-140cm
Medium
70%
30%
Mostly Indica
Grapefruit, Ripe Mango, Earthy
Woody, Flowery, Berries