SWEET TOOTH #1
ENTER A DELICIOUS WORLD OF SPELLBINDING RELEASE WITH THIS SWEET AND SPECIAL STAR
Cup Winner
Afghani x Nepalese x Hawaiian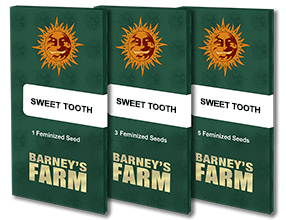 SWEET TOOTH #1™ Cannabis Seeds
SWEET TOOTH #1™ took the world by storm in the early 2000's, winning three successive Cannabis Cups. Acclaimed for its intense sweet grapefruit flavour and excellent production the SWEET TOOTH #1™ strain grows compact and is fast flowering, producing a tremendous yield of highly potent buds, dripping with enormous resin content.
Branches will need supporting in the final weeks of flowering. SWEET TOOTH #1™ produces a hardy mould resistant plant and will adapt to extreme conditions making it easily accessible to all levels of grow.The sweet grapefruit flavours of SWEET TOOTH #1™ delight both connoisseur and novice growers and a must have for collectors.
SWEET TOOTH #1™ Cannabis Seeds Strain Specifications
Feminised
Normal
Indoor/outdoor
.
Afghani x Nepalese x Hawaiian
Calms Nerves, Happy, Relaxing
up to 800 +
550 gr/m²
800+
55 - 60
September
3rd-4th week
80/90cm
90cm
100-140cm
Medium
70%
30%
Mostly Indica
No
Grapefruit, Ripe Mango, Earthy
Woody, Flowery, Berries
DISCLAIMER
All cannabis seeds at Barney's Farm are solely for personal use intended only for adults (over 18 years old). We do not supply seeds to large scale or commercial growers. we reserve the right to refuse sale if we suspect this term is being breached.
SPECIFICATION
Feminised
Normal
Indoor/outdoor
.
Afghani x Nepalese x Hawaiian
Calms Nerves, Happy, Relaxing
800 +
550 gr/m²
800+
55 - 60
September
3rd-4th week
80/90cm
90cm
100-140cm
Medium
70%
30%
Mostly Indica
No
Grapefruit, Ripe Mango, Earthy
Woody, Flowery, Berries