STRAWBERRY LEMONADE
LET THIS SEDUCTIVE STRAWBERRY DELIGHT BUBBLE THROUGH YOUR BRAIN AND BODY
Strawberry x Lemon OG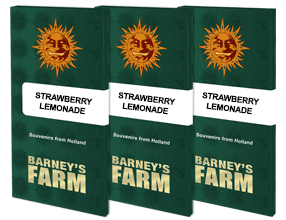 STRAWBERRY LEMONADE™ Cannabis Seeds
We are delighted to introduce this brand new Strawberry & Lemon flavoured creation from Barneys Farm. Crossing the highly potent & mostly sativa Strawberry with our phenomenal Lemon OG produced a strain that makes nostrils fizz, taste buds explode and brains bubble. An array of fruity tasting terpenes transports you into a strawberry coloured world of relaxation, relieving pain and leaving you feeling invigorated and energetic.
STRAWBERRY LEMONADE™ is hugely popular for daytime activities, with lab tests reporting a massive THC content of above 20%! A little bit of Lemonade goes a long way!Whatever you do, don't miss out on this sparkling new addition STRAWBERRY LEMONADE™ to the Barneys Farm catalogue.
Outdoors yields of up to 2.5KG are feasible in excellent conditions, and indoors one can expect a massive 700g / m2 with a flowering time of 60-70 days.
STRAWBERRY LEMONADE™ Cannabis Seeds Strain Specifications
Feminised
Normal
Indoor/outdoor
.
Strawberry x Lemon OG
Creative, Calming, Uplifted, Happy, Focused, Energetic
up to 2500
700 gr/m²
60 - 70
October
1st-2nd week
120-150cm
120-150cm
250cm
Tall
40%
60%
Mostly Sativa
Medium
Yes
Strawberry Lemonade, Lemon, Skunky Strawberry, Sweet
Sweet Lemon, Earthy Strawberry, Fruity Hash
5
4
4
4
4
2
SPECIFICATION
Feminised
Normal
Indoor/outdoor
.
Strawberry x Lemon OG
Creative, Calming, Uplifted, Happy, Focused, Energetic
2500
700 gr/m²
60 - 70
October
1st-2nd week
120-150cm
120-150cm
250cm
Tall
40%
60%
Mostly Sativa
Medium
Yes
Strawberry Lemonade, Lemon, Skunky Strawberry, Sweet
Sweet Lemon, Earthy Strawberry, Fruity Hash
5
4
4
4
4
2