SOUR DIESEL AUTO STRAIN
Unleash your creativity and focus with the pungent and flavorful Sour Diesel Auto cannabis strain
Sour Diesel x BF Super Auto #1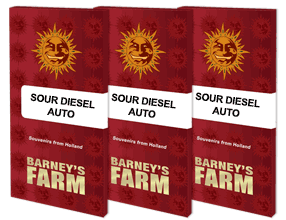 Sour Diesel Auto Cannabis Seeds
Type: Autoflower Strain
Sour Diesel Auto by Barneys Farm
Ready for a supersonic strain that will awaken your senses and energize your mind and body? Look no further than Sour Diesel Auto, the sativa-dominant hybrid that is taking the autoflowering cannabis world by storm. Created by crossing the classic Sour Diesel with the potent BF Super Auto #1, Sour Diesel Auto boasts an impressive 23% THC content that is sure to leave you feeling motivated and focused.
Indoor growers love this weed for its quick 70-day flowering period, which results in impressive yields of up to 550-600g/m2. With a height of just 90-120cm, it's the perfect size for most indoor grow rooms. But don't count out outdoor producers - Sour Diesel Auto still delivers impressive yields of between 180g and 250g per plant under ideal conditions.
The perfume of Sour Diesel Auto is as distinctive as it is strong, tantalizing the nose with hints of earthy citrus and diesel. And the high? It's simply amazing. If you like the original Sour Diesel, you're going to totally love Sour Diesel Auto. The wonderful Sour Diesel Auto is the perfect choice for anyone seeking a potent, tasty, and stimulating strain that's done in just a few weeks. So why wait? Experience the unique strength of Sour Diesel Auto for yourself - give it a test drive today!
Is Sour Diesel Auto Indica or Sativa?
The Sour Diesel Auto strain by Barneys Farm is 60% Sativa 40% Indica.
What is the best way to store my Sour Diesel Auto strain seeds?
To properly store Sour Diesel Auto seeds, it is recommended to keep them cool and dark in an airtight container ideally in a refrigerator with proper labeling and dating, avoiding freezing.
What is the best method to germinate Sour Diesel Auto strain seeds?
There are numerous techniques for germinating Sour Diesel Auto cannabis seeds if it is allowed in your location. The paper towel method is a common method in which the Sour Diesel Auto seeds are placed on a damp paper towel and covered with another damp paper towel to keep them moist. After that, keep the paper towel in a warm, dark spot and check on it every day to ensure that it remains moist. When the Sour Diesel Auto seeds have germinated, gently place them in soil or similar growth media.
Sour Diesel Auto strain cannabis seeds are sold strictly for souvenirs, storage, and genetic preservation.
Sour Diesel Auto Cannabis Seeds Strain Specifications
Feminised
Sour Diesel x BF Super Auto #1
Autoflowering
60%
40%
65 - 70 days
90-120cm
up to 550-600 gr/m²
up to 90-120cm
up to 180-250 gr/plant
Pine, Citrus, Diesel
Diesel Undertones, Lemon
Energising, Creative
SPECIFICATION
Feminised
Sour Diesel x BF Super Auto #1
Autoflowering
60%
40%
65 - 70 days
90-120cm
up to 550-600 gr/m²
up to 90-120cm
up to 180-250 gr/plant
Pine, Citrus, Diesel
Diesel Undertones, Lemon
Energising, Creative