RED DRAGON
SLAY THE DRAGONS OF YOUR MIND WITH THIS LONG-LASTING BRAZILIAN BEAUTY FROM BARNEYS
Brazilian x Afghani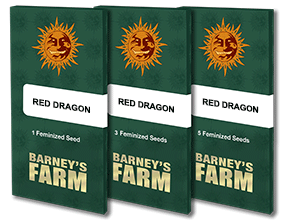 RED DRAGON™ Cannabis Seeds
The crossing of a Pakistani Kush with a true Brazilian Sativa paved the way for one of our most exotic strains. RED DRAGON™ gives a distinctive and immediately exotic Sativa high, with a relaxing effect that lasts for hours.
The finished buds encapsulate the flavour and smell of Guava fruit within unique red and green colas. RED DRAGON™ grows medium short, and has a short 8 week flowering period. This plant gives a big yield of highly prized product, but finishes outdoor by the end of September.
RED DRAGON™ Cannabis Seeds Strain Specifications
Feminised
Normal
Indoor/outdoor
.
Brazilian x Afghani
Physical Relaxation, Euphoric, Happy, Hungry
600 gr/m²
55 - 60
September
3rd-4th week
80/90cm
80/90cm
80/90cm
Medium
40%
60%
Mostly Sativa
No
Sweet Guava, Berry, Spice
Spicy, Woody, Sweet
DISCLAIMER
All cannabis seeds at Barney's Farm are solely for personal use intended only for adults (over 18 years old). We do not supply seeds to large scale or commercial growers. we reserve the right to refuse sale if we suspect this term is being breached.
SPECIFICATION
Feminised
Normal
Indoor/outdoor
.
Brazilian x Afghani
Physical Relaxation, Euphoric, Happy, Hungry
600 gr/m²
55 - 60
September
3rd-4th week
80/90cm
80/90cm
80/90cm
Medium
40%
60%
Mostly Sativa
No
Sweet Guava, Berry, Spice
Spicy, Woody, Sweet