PINEAPPLE HAZE - REGULAR
PUT SOME HAZE IN YOUR DAYS WITH THIS UPBEAT PINEAPPLE EXTRAVAGANZA
Afghan x Skunk #1 x Old School Haze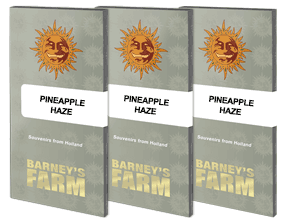 PINEAPPLE HAZE - REGULAR™ Cannabis Seeds
PINEAPPLE HAZE™ is the coming together of the legendary earthy Afghan x Skunk#1 and the spicy Old School Haze.This produced a supreme Sativa dominant hybrid with an extravagant harvest, delicious pineapple flavours together with a heavenly cerebral high.
The average yield is 600 gr/m2 indoors, but a longer pre-flowering time will increase up to 700gr/m2. PINEAPPLE HAZE™ thrives outdoors in most climates and yields of 1.5 kilos per plant are not unusual.The plant is mould resistant, hardy and rewarding for even the most novice grower. EC levels at a maximum of 1,70 Ec during the flowering period will help the plant to its ultimate best.
PINEAPPLE HAZE - REGULAR™ Cannabis Seeds Strain Specifications
Regular
Normal
Indoor/outdoor
.
Afghan x Skunk #1 x Old School Haze
Energetic Sparks, Creative Thinking, Upbeat, Intense Euphoria
up to 600-700
65 - 70
October
3rd-4th week
120-140cm
Tall
35%
65%
Mostly Sativa
Yes
Sugary, Sweet, Pineapple, Citrus
Earthy, Floral, Pine, Pineapple
5
4
DISCLAIMER
All cannabis seeds at Barney's Farm are solely for personal use intended only for adults (over 18 years old). We do not supply seeds to large scale or commercial growers. we reserve the right to refuse sale if we suspect this term is being breached.
SPECIFICATION
Regular
Normal
Indoor/outdoor
.
Afghan x Skunk #1 x Old School Haze
Energetic Sparks, Creative Thinking, Upbeat, Intense Euphoria
600-700
65 - 70
October
3rd-4th week
120-140cm
Tall
35%
65%
Mostly Sativa
Yes
Sugary, Sweet, Pineapple, Citrus
Earthy, Floral, Pine, Pineapple
5
4