PINEAPPLE CHUNK
This fruity favourite will knock your socks off and put a smile on your face
Cup Winner
Pineapple x Skunk #1 x Cheese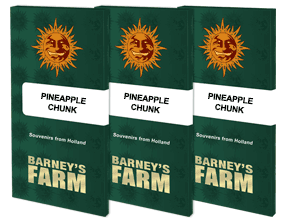 Pineapple Chunk™ Cannabis Seeds
Type: Feminised strain
PINEAPPLE CHUNK™ was created by crossing "Barney's Farm" Sweet Pineapple with our Cheese/Skunk #1 - breeding into this new variety the essence and flavour of these delicious strains. The result is an extremely vigorous and stable plant. Mould and disease resistant.
The essence and flavour of PINEAPPLE CHUNK™ is immediately obvious. Its aroma of earthy Cheese X Skunk is fortified by the stunning essence of very sweet Pineapple. The taste is delicious and unique. Earthy flavours are underpinned by the strong appetizing Pineapple aftershock. A huge giver with a massive THC output and high CBD giving a powerful couch lock effect.
Pineapple Chunk strain cannabis seeds are sold strictly for souvenirs, storage, and genetic preservation.
Pineapple Chunk™ Cannabis Seeds Strain Specifications
Feminised
Pineapple x Skunk #1 x Cheese
Normal
20%
80%
55 - 60
3rd-4th week - September
90/100cm
up to 600 gr/m▓
up to 90/100cm
Sweet Pineapple, Cheesy, Pine
Earthy, Cheesey, Pineapple
Cerebral Energy, Gentle Euphoria, Reinvigorating Sensation, Creative
SPECIFICATION
Feminised
Pineapple x Skunk #1 x Cheese
Normal
20%
80%
55 - 60
3rd-4th week - September
90/100cm
up to 600 gr/m▓
up to 90/100cm
Sweet Pineapple, Cheesy, Pine
Earthy, Cheesey, Pineapple
Cerebral Energy, Gentle Euphoria, Reinvigorating Sensation, Creative