PHANTOM OG
GIGGLE YOUR DAY AWAY WITH THIS NUTTY TASTING HIGH YIELDING CARNIVAL OF CANNABINOIDS
Phantom Cookies x OG Kush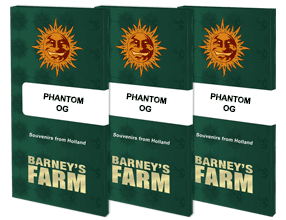 PHANTOM OG™ Cannabis Seeds
PHANTOM OG™ was created by crossing the Californian Sativa dominant Phantom Cookies with OG Kush, this produced a strain with huge advantages. The Sativa dominant hybrid not only has a short flowering period, but a much higher yield and higher cannabinoid levels, while keeping the Phantom Cookies unique colours and its flavours of walnut and wild berry.
PHANTOM OG™ grows to 1.2 meters indoors and easily to 1.50 meters outdoors with flowers rapidly growing to excellence in just 55 to 65 days. Production is enormous! With a crop of purple hued delicious nutty bud that releases a warm cerebral high and comforting stone effect.
PHANTOM OG™ Cannabis Seeds Strain Specifications
Feminised
Normal
.
Phantom Cookies x OG Kush
Giggles, Uplifting, Euphoric, Inspired, Motivated
up to 650
650 gr/m²
55 - 65
October
2nd-3rd week
High
120-150cm
120cm
150cm
Tall
45%
55%
Mostly Sativa
Walnut, Wild Berry, Citrus, Sweet
Lemony Pine, Minty Earth
SPECIFICATION
Feminised
Normal
.
Phantom Cookies x OG Kush
Giggles, Uplifting, Euphoric, Inspired, Motivated
650
650 gr/m²
55 - 65
October
2nd-3rd week
High
120-150cm
120cm
150cm
Tall
45%
55%
Mostly Sativa
Walnut, Wild Berry, Citrus, Sweet
Lemony Pine, Minty Earth