PHANTOM OG
GIGGLE YOUR DAY AWAY WITH THIS NUTTY TASTING HIGH YIELDING CARNIVAL OF CANNABINOIDS
Phantom Cookies x OG Kush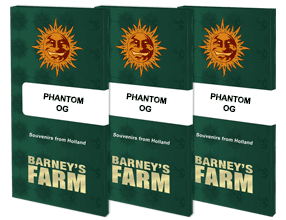 PHANTOM OG™ Cannabis Seeds
PHANTOM OG™ was created by crossing the Californian Sativa dominant Phantom Cookies with OG Kush, this produced a strain with huge advantages. The Sativa dominant hybrid not only has a short flowering period, but a much higher yield and higher cannabinoid levels, while keeping the Phantom Cookies unique colours and its flavours of walnut and wild berry.
PHANTOM OG™ grows to 1.2 meters indoors and easily to 1.50 meters outdoors with flowers rapidly growing to excellence in just 55 to 65 days. Production is enormous! With a crop of purple hued delicious nutty bud that releases a warm cerebral high and comforting stone effect.
PHANTOM OG™ Cannabis Seeds Strain Specifications
Feminised
Normal
Indoor/outdoor
.
Phantom Cookies x OG Kush
Giggles, Uplifting, Euphoric, Inspired, Motivated
up to 650
650 gr/m²
55 - 65
October
2nd-3rd week
High
120-150cm
120cm
150cm
Tall
45%
55%
Mostly Sativa
Medium
Yes
Walnut, Wild Berry, Citrus, Sweet
Lemony Pine, Minty Earth
3
5
5
3
3
3
DISCLAIMER
All cannabis seeds at Barney's Farm are solely for personal use intended only for adults (over 18 years old). We do not supply seeds to large scale or commercial growers. we reserve the right to refuse sale if we suspect this term is being breached.
SPECIFICATION
Feminised
Normal
Indoor/outdoor
.
Phantom Cookies x OG Kush
Giggles, Uplifting, Euphoric, Inspired, Motivated
650
650 gr/m²
55 - 65
October
2nd-3rd week
High
120-150cm
120cm
150cm
Tall
45%
55%
Mostly Sativa
Medium
Yes
Walnut, Wild Berry, Citrus, Sweet
Lemony Pine, Minty Earth
3
5
5
3
3
3