PEYOTE COOKIES
BEND YOUR MIND AND SOOTH YOUR SOUL WITH THIS PSYCHEDELIC COOKIES CROSS
Peyote Purple x Cookies Kush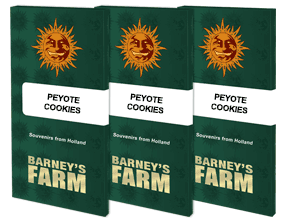 PEYOTE COOKIES™ Cannabis Seeds
PEYOTE COOKIES™ originates from crossing Peyote Purple and our Legendary Cookies Kush. A large and detailed selection and back-crossing process isolated the very best qualities of both parents into one strain. The resulting plant is a vigorous hybrid, robust and easy to grow. PEYOTE COOKIES™ grows into a heavy and dense stocky plant with strong branches needed to support its dense and resinous buds.
The flowering plant displays a dazzling ruby red and purple complexion. This strain is mould and mildew resistant and grows superbly both indoors or outdoors. PEYOTE COOKIES™ has a very intense guava and earthy flavour, with impressions of vanilla and coffee with a powerful, relaxing and long lasting effect.
PEYOTE COOKIES™ Cannabis Seeds Strain Specifications
Feminised
Normal
.
Peyote Purple x Cookies Kush
Relaxing Bliss, Powerful, Hungry, Euphoria, Happy
up to 600
550-600 gr/m²
55 - 60
October
2nd-3rd week
90-100cm
90-100cm
90-100cm
Medium
95%
5%
Mostly Indica
Sugary, Tropical Guava, Fresh Coffee, Vanilla
Tropical, Sweet, Earthy, Nutty Vanilla, Coffee
SPECIFICATION
Feminised
Normal
.
Peyote Purple x Cookies Kush
Relaxing Bliss, Powerful, Hungry, Euphoria, Happy
600
550-600 gr/m²
55 - 60
October
2nd-3rd week
90-100cm
90-100cm
90-100cm
Medium
95%
5%
Mostly Indica
Sugary, Tropical Guava, Fresh Coffee, Vanilla
Tropical, Sweet, Earthy, Nutty Vanilla, Coffee