ORANGE SHERBERT
TASTE THE SWEET AND CREAMY ORANGE BUDS OF THIS OUTSTANDING FRUITY CLASSIC
Orange Cream x Purple Urkle x Cherry Pie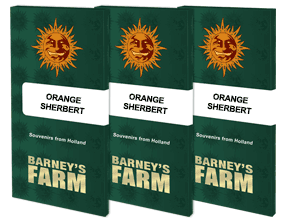 ORANGE SHERBERT™ Cannabis Seeds
ORANGE SHERBERT™, a powerful and invigorating Indica dominant hybrid with intoxicating and mouth-watering effects. This is an all American strain that gathers together Orange Cream, Purple Urkle and Cherry Pie in one amazing Candy/Orange tasting plant.
Grows out the most amazing dense orange and purple flowers imaginable with a taste that is an incredibly outstanding deep orange. Very Indica relaxing effect leaves the body and mind in a chilled and peaceful place. This plant is one of the easiest to grow. Plants will grow up to 1.3 meters and produce huge colas of delicious bud. Side branches like support in the last few weeks of flowering.
ORANGE SHERBERT™ Cannabis Seeds Strain Specifications
Feminised
Normal
Indoor/outdoor
.
Orange Cream x Purple Urkle x Cherry Pie
Relaxing, Chilling
up to 700
650 gr/m²
60 - 70
September
3rd-4th week
100cm
130cm
Medium
80%
20%
Mostly Indica
Medium
Yes
Acid candy, Orange
Sweet Bitterness, Orange
4
5
5
5
4
DISCLAIMER
All cannabis seeds at Barney's Farm are solely for personal use intended only for adults (over 18 years old). We do not supply seeds to large scale or commercial growers. we reserve the right to refuse sale if we suspect this term is being breached.
SPECIFICATION
Feminised
Normal
Indoor/outdoor
.
Orange Cream x Purple Urkle x Cherry Pie
Relaxing, Chilling
700
650 gr/m²
60 - 70
September
3rd-4th week
100cm
130cm
Medium
80%
20%
Mostly Indica
Medium
Yes
Acid candy, Orange
Sweet Bitterness, Orange
4
5
5
5
4