OG KUSH AUTO STRAIN
Experience the legendary OG Kush in a new way with the potent and easy-to-grow OG Kush Auto cannabis strain
OG Kush Strain x BF Super Auto #1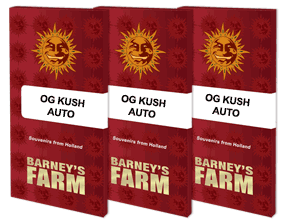 OG Kush Auto Cannabis Seeds
Type: Autoflower Strain
OG Kush Auto by Barneys Farm
OG Kush Auto is the outcome of a brilliant cross between OG Kush and BF Super Auto #1. This indica dominating strain has a 75-day blooming cycle and a THC content of 20-24%. This strong strain is well-known for its calming and soothing effects on the mind and body, making it an excellent choice for anyone in need of some rest and relaxation.
At a height of 90-110cm, OG Kush Auto produces an astounding 500g/m2 indoors. This variety grows to a height of 90-120cm and yields 200-300g per plant when grown outdoors. OG Kush Auto is a popular choice for weed growers of all levels because of its renowned effects, great output and simplicity of cultivation.
OG Kush Auto is a genuine connoisseur's strain, with its earthy, piney scent and unique taste profile. Because of its potent effects, it is useful for treating chronic pain, anxiety, and sleeplessness. If you're searching for a strong, high-yielding strain with a famous pedigree, OG Kush Auto is the strain for you.
Is OG Kush Auto Indica or Sativa?
The OG Kush Auto strain by Barneys Farm is 20% Sativa 80% Indica.
What is the best way to store my OG Kush Auto strain seeds?
To properly store OG Kush Auto seeds, it is recommended to keep them cool and dark in an airtight container ideally in a refrigerator with proper labeling and dating, avoiding freezing.
What is the best method to germinate OG Kush Auto strain seeds?
There are numerous techniques for germinating OG Kush Auto cannabis seeds if it is allowed in your location. The paper towel method is a common method in which the OG Kush Auto seeds are placed on a damp paper towel and covered with another damp paper towel to keep them moist. After that, keep the paper towel in a warm, dark spot and check on it every day to ensure that it remains moist. When the OG Kush Auto seeds have germinated, gently place them in soil or similar growth media.
OG Kush Auto strain cannabis seeds are sold strictly for souvenirs, storage, and genetic preservation.
OG Kush Auto Cannabis Seeds Strain Specifications
Feminised
OG Kush Strain x BF Super Auto #1
Autoflowering
20%
80%
70 - 75 days
90-110cm
up to 500 gr/m²
up to 90-120cm
up to 200-300 gr/plant
Sour Citrus, Woody pine, Dank Kush
Earthy, Dank, Lemon-Fuel Skunk, Lemon Citrus, Sour, Pungent, Skunky
Euphoric, Full Body Buzz Cerebral, Happy, Relaxing, Sociable, Uplifting
SPECIFICATION
Feminised
OG Kush Strain x BF Super Auto #1
Autoflowering
20%
80%
70 - 75 days
90-110cm
up to 500 gr/m²
up to 90-120cm
up to 200-300 gr/plant
Sour Citrus, Woody pine, Dank Kush
Earthy, Dank, Lemon-Fuel Skunk, Lemon Citrus, Sour, Pungent, Skunky
Euphoric, Full Body Buzz Cerebral, Happy, Relaxing, Sociable, Uplifting