LSD
BLAST INTO ANOTHER DIMENSION WITH THIS PSYCHEDELIC CLASSIC FROM BARNEYS FARM
Cup Winner
Original Skunk #1 x Afghan Indica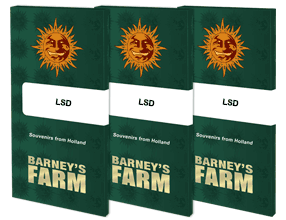 LSD™ Cannabis Seeds
LSD™ is a hardy mould and disease resistant plant that responds well to all growing conditions. It was given its name by the Barney's crew because of its powerful trippy high. This plant is very easy to grow, and can give you a high yield of award winning and powerful buds.
LSD™ gives a euphoric, psychedelic and powerful stoned effect, giving an immense cerebral high. LSD™ has a musky smell with the intense flavour of earthy chestnut.
LSD™ Cannabis Seeds Specifications
Feminised
Normal
Indoor/outdoor
.
Original Skunk #1 x Afghan Indica
Social, Body High, Euphoric, Uplifted
up to 600-750
700 gr/m²
60 - 65
October
1st-2nd week
90/100cm
90/100cm
90/100cm
Medium
70%
30%
Mostly Indica
Medium
Yes
Earthy Chestnut, Earthy Lemon, Citrus, Sweet & Sour
Musky, Earthy Flower, Herbal, Skunky, Pungent
4
4
4
4
4
2
DISCLAIMER
All cannabis seeds at Barney's Farm are solely for personal use intended only for adults (over 18 years old). We do not supply seeds to large scale or commercial growers. we reserve the right to refuse sale if we suspect this term is being breached.
SPECIFICATION
Feminised
Normal
Indoor/outdoor
.
Original Skunk #1 x Afghan Indica
Social, Body High, Euphoric, Uplifted
600-750
700 gr/m²
60 - 65
October
1st-2nd week
90/100cm
90/100cm
90/100cm
Medium
70%
30%
Mostly Indica
Medium
Yes
Earthy Chestnut, Earthy Lemon, Citrus, Sweet & Sour
Musky, Earthy Flower, Herbal, Skunky, Pungent
4
4
4
4
4
2