LIBERTY HAZE
You'll love this classic cup winning Haze with a twist of piney ChemDawg
Cup Winner
G13 x ChemDawg 91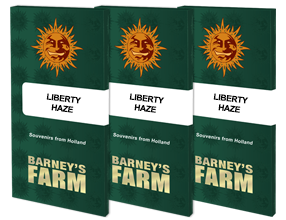 Liberty Haze™ Cannabis Seeds
Type: Feminised strain
LIBERTY HAZE™ is a strain created from a crossing of G13 with a fast flowering ChemDawg 91. This strain has both Indica and Sativa characteristics, and has a fast flowering time of 8-9 weeks, where it grows to a medium height. This plant has a substantial girth, and performs excellently both indoors and outdoors.
The long dense colas start to fatten up in the last few weeks, producing dense buds in a beautiful red and purple calyx. The buzz is immediate and long lasting, creating a euphoric cerebral effect. This strain has a distinct lime taste and fragrance.
Liberty Haze strain cannabis seeds are sold strictly for souvenirs, storage, and genetic preservation.
Liberty Haze™ Cannabis Seeds Strain Specifications
Feminised
G13 x ChemDawg 91
Normal
60%
40%
60 - 65
1st-2nd week - October
100/110cm
up to 600 gr/m▓
up to 100/110cm
Pine, Lime, Herbal
Musky, Earthy, Skunky
Long lasting, Calm, Tingly, Giggly, Euphoria, Creative
SPECIFICATION
Feminised
G13 x ChemDawg 91
Normal
60%
40%
60 - 65
1st-2nd week - October
100/110cm
up to 600 gr/m▓
up to 100/110cm
Pine, Lime, Herbal
Musky, Earthy, Skunky
Long lasting, Calm, Tingly, Giggly, Euphoria, Creative