LAUGHING BUDDHA
IF YOU LIKE SATIVAS YOU'LL LOVE LAUGHING BUDDHA, TWO CLASSICS COMBINED
Cup Winner
Thai x Jamaican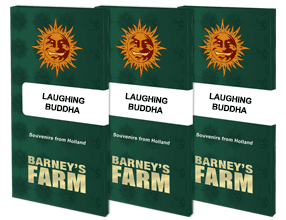 LAUGHING BUDDHA™ Cannabis Seeds
LAUGHING BUDDHA™ is an almost pure Sativa strain, created by crossing our pure landrace Thai Sativa with our Jamaican Hybrid. This plant has a longer flowering period, but will reward you with large, tight and heavy buds from a one metre tall plant.
It will need to be supported in the last three weeks of flowering. It is a beautifully fragrant plant, giving off concentrated sweet aromas of exotic fruits. The results are an energetic Sativa high.
LAUGHING BUDDHA™ Cannabis Seeds Strain Specifications
Feminised
Normal
.
Thai x Jamaican
Focused, Productive, Giggly, Energized, Creative, Social, Euphoria
600 gr/m²
70 - 75
October
3rd-4th week
100/110cm
100/110cm
100/110cm
Medium
20%
80%
Mostly Sativa
Roasted Pepper, Pineapple, Lemon, Herbal
Fresh, Sweet, Exotic Fruits
SPECIFICATION
Feminised
Normal
.
Thai x Jamaican
Focused, Productive, Giggly, Energized, Creative, Social, Euphoria
600 gr/m²
70 - 75
October
3rd-4th week
100/110cm
100/110cm
100/110cm
Medium
20%
80%
Mostly Sativa
Roasted Pepper, Pineapple, Lemon, Herbal
Fresh, Sweet, Exotic Fruits