GORILLA ZKITTLEZ
BOOST BRAIN AND BODY WITH THIS REMARKABLE KALEIDOSCOPE OF CALMING CANNABINOIDS
Gorilla Glue x Zkittlez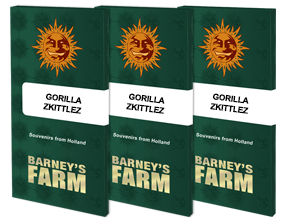 GORILLA ZKITTLEZ™ Cannabis Seeds
Unleash the gigantic power of West Coast genetics with an amazing fusion of GG 4 and Zkittlez. Introducing Barney's Farm brand new GORILLA ZKITTLEZ™. An exquisite trichome celebration awaits the patient following 60 days in bloom. You won't forget the first time you experience her fertile fruits. Leaning toward the Indica side of the cannabis spectrum, this emerging favourite is a powerful and thought provoking beauty, whose trichome-laden glistening pistils will delight all comers.
Why not let her medical grade 24% THC seduce you into a warm realm of rest and relaxation that you will never want to leave. Flowering times of 8-9 weeks can be expected indoors, with outdoor grows finishing in early October. Expect up to 2.5 kg from a well cared for outdoor grow and a final height of up to 1.7m. Get hold of some Barneys Farm GORILLA ZKITTLEZ™ today.
GORILLA ZKITTLEZ™ Cannabis Seeds Strain Specifications
Feminised
Normal
Indoor/outdoor
.
Gorilla Glue x Zkittlez
Powerful, Relaxing, Thought Provoking
up to 2000-2500
600-700 gr/m²
55 - 65
October
1st-2nd week
Medium
140-170cm
140cm
140-170cm
Tall
60%
40%
Mostly Indica
Medium
Yes
Fruity
Fruity
4
3
DISCLAIMER
All cannabis seeds at Barney's Farm are solely for personal use intended only for adults (over 18 years old). We do not supply seeds to large scale or commercial growers. we reserve the right to refuse sale if we suspect this term is being breached.
SPECIFICATION
Feminised
Normal
Indoor/outdoor
.
Gorilla Glue x Zkittlez
Powerful, Relaxing, Thought Provoking
2000-2500
600-700 gr/m²
55 - 65
October
1st-2nd week
Medium
140-170cm
140cm
140-170cm
Tall
60%
40%
Mostly Indica
Medium
Yes
Fruity
Fruity
4
3