GMO AUTO STRAIN
Unleash your senses with the potent and flavorful GMO Auto cannabis strain, perfect for a powerful high and deep relaxation.
GMO Strain x BF Super Auto #1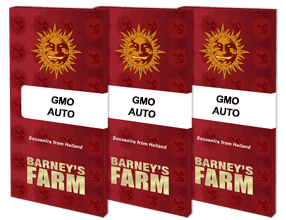 GMO Auto Cannabis Seeds
Type: Autoflower Strain
GMO Auto by Barneys Farm
GMO Auto is an outstanding cannabis strain perfect for those who want to experience an intense and well-rounded high without the need for varied light cycles. With its indica-dominant genes and impressive GMO and BF Super Auto #1 genetics, producing a strain with remarkable strength and taste, it's no surprise that this strain is highly sought after by the most discerning cannabis enthusiasts.

GMO Autoflower by Barneys Farm is a real powerhouse and a real pleasure to grow. With a seed to harvest time of 70-75 days, it yields up to 600g/m2 indoors and 200-300g per plant outdoors. It's just the perfect size too, reaching up to 90-110cm indoors and 100-130cm outdoors, makes it an excellent choice for both indoor and outdoor gardeners aiming to optimise productivity.

GMO is renowned for its distinct aroma and flavour profile, producing a strong and diesel-like perfume that's laced with hints of garlic and earthy overtones. This is truly a unique taste that will excite your senses and leave you craving more.

With a remarkable THC concentration of 24%, the high is robust and well-balanced, producing a deeply soothing and calming effect that's perfect for those evening or bedtime sessions.
Is GMO Auto Indica or Sativa?
The GMO Auto strain by Barneys Farm is 20% Sativa 80% Indica.
What is the best way to store my GMO Auto strain seeds?
To properly store GMO Auto seeds, it is recommended to keep them cool and dark in an airtight container ideally in a refrigerator with proper labeling and dating, avoiding freezing.
What is the best method to germinate GMO Auto strain seeds?
There are numerous techniques for germinating GMO Auto cannabis seeds if it is allowed in your location. The paper towel method is a common method in which the GMO Auto seeds are placed on a damp paper towel and covered with another damp paper towel to keep them moist. After that, keep the paper towel in a warm, dark spot and check on it every day to ensure that it remains moist. When the GMO Auto seeds have germinated, gently place them in soil or similar growth media.
GMO Auto strain cannabis seeds are sold strictly for souvenirs, storage, and genetic preservation.
GMO Auto Cannabis Seeds Strain Specifications
Feminised
GMO Strain x BF Super Auto #1
Autoflowering
20%
80%
70 - 75 days
90-110cm
up to 600 gr/m▓
up to 100-130cm
up to 200-300 gr/plant
Diesel, Garlic, Earthy
Diesel, Garlic, Earthy
Euphoric, Uplifting
SPECIFICATION
Feminised
GMO Strain x BF Super Auto #1
Autoflowering
20%
80%
70 - 75 days
90-110cm
up to 600 gr/m▓
up to 100-130cm
up to 200-300 gr/plant
Diesel, Garlic, Earthy
Diesel, Garlic, Earthy
Euphoric, Uplifting