G13 HAZE
EXPERIENCE THIS SWEET TASTING, UPLIFTING CUP WINNER USING THE ONE AND ONLY G13
Cup Winner
G13 x Hawaiian Sativa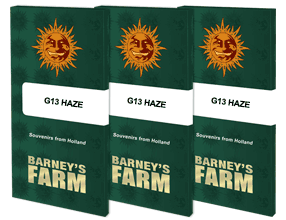 G13 HAZE™ Cannabis Seeds
What happens when you mix the legendary G13 with our favourite Hawaiian Sativa? You get a plant with an extraordinary density of flower and resin production. The G13 HAZE™ offer healthy yields and the intense aromas and flavours of fruit and spice lead to powerful, cerebral effects, and make the smoke worth savouring.
This plant grows medium short and compact for a Sativa dominant strain, and is perfect for SOG and ScrOG gardens.
G13 HAZE™ Cannabis Seeds Specifications
Feminised
Normal
Indoor/outdoor
.
G13 x Hawaiian Sativa
Powerful, Creativity Booster, Uplifting, Invigorating, Cerebral,
up to 700
550 gr/m²
65 - 70
October
2nd-3rd week
100/110cm
100/110cm
100/110cm
Medium
20%
80%
Indica/Sativa
No
Sweet Candies, Tropical Fruit Cocktail, Citrus
Fruity, Spicy
DISCLAIMER
All cannabis seeds at Barney's Farm are solely for personal use intended only for adults (over 18 years old). We do not supply seeds to large scale or commercial growers. we reserve the right to refuse sale if we suspect this term is being breached.
SPECIFICATION
Feminised
Normal
Indoor/outdoor
.
G13 x Hawaiian Sativa
Powerful, Creativity Booster, Uplifting, Invigorating, Cerebral,
700
550 gr/m²
65 - 70
October
2nd-3rd week
100/110cm
100/110cm
100/110cm
Medium
20%
80%
Indica/Sativa
No
Sweet Candies, Tropical Fruit Cocktail, Citrus
Fruity, Spicy