DR GRINSPOON
DON'T MISS OUT ON THIS HIGHLY REGARDED CLASSIC WITH A PURE SATIVA BUZZ.
Heirloom Sativa Strain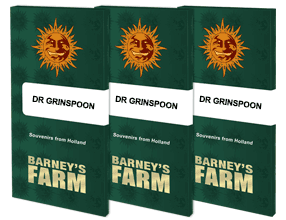 DR GRINSPOON™ Cannabis Seeds
A strain named in honour of an amazing Cannabis advocate, researcher and author, Dr Lester Grinspoon. This is a pure heirloom Sativa which grows tall and thin.
This plant requires a longer flowering time, but when mature the colas resemble compact green and reddish brown beads. These loosely hang on thin stems, the buds give a lemon and sumac scent and produce a light smoke with tangy tropical fruit aromas. DR GRINSPOON™ offers an old school Sativa of the highest order, which gives a strong, long lasting, energetic and cerebral high.
DR GRINSPOON™ Cannabis Seeds Strain Specifications
Feminised
Normal
Outdoor
.
Heirloom Sativa Strain
Focused, Talkative, Cerebral, Long Lasting, Energetic
350 gr/m²
90 - 95
November
2nd-3rd week
140/160cm
160cm
140/160cm
Tall
100%
100% Sativa
Yes
Honey, Pine, Rich, Earthy
Sumac, Lemon, Tangy, Tropical Fruit
DISCLAIMER
All cannabis seeds at Barney's Farm are solely for personal use intended only for adults (over 18 years old). We do not supply seeds to large scale or commercial growers. we reserve the right to refuse sale if we suspect this term is being breached.
SPECIFICATION
Feminised
Normal
Outdoor
.
Heirloom Sativa Strain
Focused, Talkative, Cerebral, Long Lasting, Energetic
350 gr/m²
90 - 95
November
2nd-3rd week
140/160cm
160cm
140/160cm
Tall
100%
100% Sativa
Yes
Honey, Pine, Rich, Earthy
Sumac, Lemon, Tangy, Tropical Fruit