DOS SI DOS 33
BE VERY CAREFUL WITH THIS POTENT NEW MEETING OF JAW DROPPING US GENETICS
Dos Si Dos x Gelato #33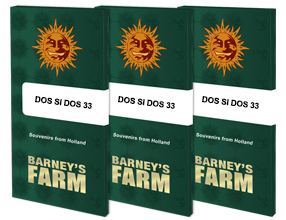 DOS SI DOS 33™ Cannabis Seeds
Barneys Farm's Cali Collection gets another jolt of super power with this explosive collection of terpenes fused together from some of the world's most astounding US cannabis phenotypes.
Dos Si Dos was developed from OG Kush Breath, a knockout Girl Scout Cookies pheno crossed with Face Off OG, then crossed again with our legendary Cookies Kush (OG Kush pheno x GSC) AND THAT'S ONLY HALF OF THE STORY.
Add in a subtle blend of Gelato #33 to the pot with its star struck Sunset Sherbet x Thin Mint GSC heritage and boom! A new champion was born: a sativa burst of euphoric energy is followed by tranquility with sedative properties capable of happily tranquilizing an elephant, if you're overzealous or uninitiated!
Indoors you can expect up to 700g of breathtaking flowers per m2, with a compact height of only 90cm. Outdoors plants bearing up to an astonishing 2KG are easily achievable with a mid-October finish. This extraordinary contrasting lime green and violet 22-28% THC deliciously tasting Indica (60% Indica / 40% Sativa) will leave a lasting relaxed and happy feeling on all who grow her and experience her unique old school stony high.
DOS SI DOS 33™ Cannabis Seeds Strain Specifications
Feminised
Normal
Indoor/outdoor
Dos Si Dos x Gelato #33
Relaxed, Sedative, Happy
up to 2000
700 gr/m²
60 - 65
October
1st-2nd week
90cm
Short
60%
40%
Mostly Indica
Medium
Yes
Mint, Lime, Spice
Cookies, Sherbet, Lime
5
3
4
5
4
Cool, Hot & Temperate
1
DISCLAIMER
All cannabis seeds at Barney's Farm are solely for personal use intended only for adults (over 18 years old). We do not supply seeds to large scale or commercial growers. we reserve the right to refuse sale if we suspect this term is being breached.
SPECIFICATION
Feminised
Normal
Indoor/outdoor
Dos Si Dos x Gelato #33
Relaxed, Sedative, Happy
2000
700 gr/m²
60 - 65
October
1st-2nd week
90cm
Short
60%
40%
Mostly Indica
Medium
Yes
Mint, Lime, Spice
Cookies, Sherbet, Lime
5
3
4
5
4
Cool, Hot & Temperate
1