CRITICAL KUSH AUTO
GET SOME QUALITY KUSH QUICKLY WITH CRITICAL KUSH AUTO - YOURS IN JUST 9 WEEKS
Critical Kush x BF Super Auto #1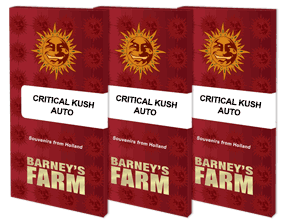 CRITICAL KUSH AUTO™ Cannabis Seeds
One of BARNEYS FARM® most popular strains is now available in autoflowering, so say hello to the CRITICAL KUSH AUTO™. This strain was created by crossing the CRITICAL KUSH™ with our most advanced autoflowering breeding plant, and can be yours in just 8-9 weeks.
Flowering begins in the fifth week, with the final plant reaching up to 75cm. The main stem grows several side branches which are packed with tasty and compact heavy colas. And don't forget about the delicious earthy pine and Kush flavours. This is an amazing choice for Indica lovers.
CRITICAL KUSH AUTO™ Cannabis Seeds Strain Specifications
Feminised
Autoflowering
Indoor/outdoor
.
Critical Kush x BF Super Auto #1
Relaxed, Calming, Sleepy, Cerebral
550 gr/m²
70 - 80
70/80cm
70/80cm
70-100cm
Short
90%
10%
Mostly Indica
No
Pine Wood, Kush
Smooth, Earthy, Fruity
DISCLAIMER
All cannabis seeds at Barney's Farm are solely for personal use intended only for adults (over 18 years old). We do not supply seeds to large scale or commercial growers. we reserve the right to refuse sale if we suspect this term is being breached.
SPECIFICATION
Feminised
Autoflowering
Indoor/outdoor
.
Critical Kush x BF Super Auto #1
Relaxed, Calming, Sleepy, Cerebral
550 gr/m²
70 - 80
70/80cm
70/80cm
70-100cm
Short
90%
10%
Mostly Indica
No
Pine Wood, Kush
Smooth, Earthy, Fruity