CRITICAL KUSH
EXPERIENCE THE ULTIMATE IN KUSH POWER WITH THIS EXEMPLARY OG KUSH CROSS
Cup Winner
Critical Mass x OG Kush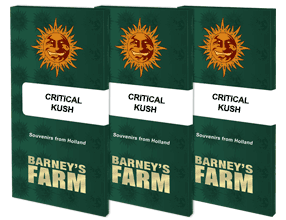 CRITICAL KUSH™ Cannabis Seeds
CRITICAL KUSH™ comes from a blend of the famous Critical Mass with our own OG Kush. This is an extremely vigorous and powerful Indica plant which yields huge amounts of strong Kush. You can take pleasure in its sticky feel, crystal covered buds, aromatic scent and don't forget the ultimate knockout stone.
This new hybrid is a significant advance in modern marijuana breeding and its Indica dominant nature makes it ideal for relaxation, pain relief and late night smoking. You can expect flowers within 8 weeks from this medium height plant.
CRITICAL KUSH™ Cannabis Seeds Strain Specifications
Feminised
Normal
Indoor/outdoor
.
Critical Mass x OG Kush
Stimulating, Calming, Relaxing
650 gr/m²
55 - 60
September
3rd-4th week
100/110cm
100/110cm
100/110cm
Medium
100%
100% Indica
No
Fresh Pine, Lemon Pie, Tangy
Earthy, Herb, Fuel
DISCLAIMER
All cannabis seeds at Barney's Farm are solely for personal use intended only for adults (over 18 years old). We do not supply seeds to large scale or commercial growers. we reserve the right to refuse sale if we suspect this term is being breached.
SPECIFICATION
Feminised
Normal
Indoor/outdoor
.
Critical Mass x OG Kush
Stimulating, Calming, Relaxing
650 gr/m²
55 - 60
September
3rd-4th week
100/110cm
100/110cm
100/110cm
Medium
100%
100% Indica
No
Fresh Pine, Lemon Pie, Tangy
Earthy, Herb, Fuel