CBD CRITICAL CURE
UNLEASH THE MEDICAL POWER OF CBD WITH THIS UNIQUELY COMFORTING CANNABIS PLANT
Critical Kush x Shanti Baba's CBD Enhanced Strain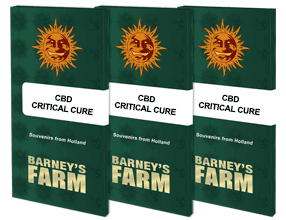 CBD CRITICAL CURE™ Cannabis Seeds
Barneys Farm / CBD Crew Collaboration.
A crossing of the legendary Indica CRITICAL KUSH™ crossed with Shanti Baba's CBD enhanced strain. This is a fast flowering strain that produces huge heavy buds, but will need to be supported in the final weeks of flowering.
The flowers are full of resin and CBD CRITICAL CURE™ has an intense and earthy flavour, with an added hint of sweetness. The therapeutic benefits will speak for themself.
CBD CRITICAL CURE™ Cannabis Seeds Strain Specifications
Feminised
Normal
Indoor/outdoor
.
Critical Kush x Shanti Baba's CBD Enhanced Strain
Positive Mood, Alert, Uplifting, Focused
600 gr/m²
55 - 60
September
3rd-4th week
90/100cm
90/100cm
100cm
Medium
80%
20%
Mostly Indica
Yes
Sweet Pine, Earthy
Pungent, Fruity, Forest
DISCLAIMER
All cannabis seeds at Barney's Farm are solely for personal use intended only for adults (over 18 years old). We do not supply seeds to large scale or commercial growers. we reserve the right to refuse sale if we suspect this term is being breached.
SPECIFICATION
Feminised
Normal
Indoor/outdoor
.
Critical Kush x Shanti Baba's CBD Enhanced Strain
Positive Mood, Alert, Uplifting, Focused
600 gr/m²
55 - 60
September
3rd-4th week
90/100cm
90/100cm
100cm
Medium
80%
20%
Mostly Indica
Yes
Sweet Pine, Earthy
Pungent, Fruity, Forest