CBD CRITICAL CURE
UNLEASH THE MEDICAL POWER OF CBD WITH THIS UNIQUELY COMFORTING CANNABIS PLANT
Critical Kush x Shanti Baba's CBD Enhanced Strain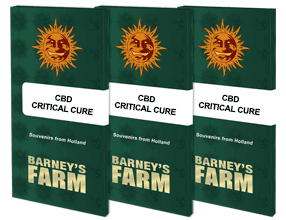 CBD CRITICAL CURE™ Cannabis Seeds
Barneys Farm / CBD Crew Collaboration.
A crossing of the legendary Indica CRITICAL KUSH™ crossed with Shanti Baba's CBD enhanced strain. This is a fast flowering strain that produces huge heavy buds, but will need to be supported in the final weeks of flowering.
The flowers are full of resin and CBD CRITICAL CURE™ has an intense and earthy flavour, with an added hint of sweetness. The therapeutic benefits will speak for themself.
CBD CRITICAL CURE™ Cannabis Seeds Strain Specifications
Feminised
Normal
.
Critical Kush x Shanti Baba's CBD Enhanced Strain
Positive Mood, Alert, Uplifting, Focused
600 gr/m²
55 - 60
September
3rd-4th week
90/100cm
90/100cm
100cm
Medium
80%
20%
Mostly Indica
Sweet Pine, Earthy
Pungent, Fruity, Forest
SPECIFICATION
Feminised
Normal
.
Critical Kush x Shanti Baba's CBD Enhanced Strain
Positive Mood, Alert, Uplifting, Focused
600 gr/m²
55 - 60
September
3rd-4th week
90/100cm
90/100cm
100cm
Medium
80%
20%
Mostly Indica
Sweet Pine, Earthy
Pungent, Fruity, Forest