BLUE CHEESE AUTO
TASTE CHEESE BUDS IN NO TIME AT ALL WITH THIS AUTOFLOWERING VERSION OF OUR CLASSIC BLUE CHEESE
Blue Cheese x Ruderalis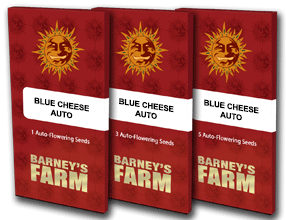 BLUE CHEESE AUTO™ Cannabis Seeds
The classic BLUE CHEESE™ is now available in an autoflowering variant. This strain is easy to grow and it's high productivity makes this one of the best autoflowering strains on the market. This ground-breaking strain is the end product of BLUE CHEESE™ crossed with a unique Ruderalis breeding strain.
BLUE CHEESE AUTO™ grows with very little effort and will flourish in most conditions; vegetation automatically shifts into flowering in the fifth week. The fragrance and cheesy earthy flavours of the original mouth-watering BLUE CHEESE™ dominate this autoflowering plant, which will always have you coming back for more.
BLUE CHEESE AUTO™ Cannabis Seeds Specifications
Feminised
Autoflowering
Indoor/outdoor
.
Blue Cheese x Ruderalis
Relaxed, Happy, Cerebral, Peaceful, Soothing, Uplifting, Calm
500 gr/m²
500
70 - 75
80/100cm
80/100cm
100cm
Short
80%
20%
Mostly Indica
No
Spicy, Mild Creamy Cheese, Berries, Blueberry
Mature Cheese, Sweet, Fruity, Skunky Tang
4
5
5
4
4
Hot
Stable
1
SPECIFICATION
Feminised
Autoflowering
Indoor/outdoor
.
Blue Cheese x Ruderalis
Relaxed, Happy, Cerebral, Peaceful, Soothing, Uplifting, Calm
500 gr/m²
500
70 - 75
80/100cm
80/100cm
100cm
Short
80%
20%
Mostly Indica
No
Spicy, Mild Creamy Cheese, Berries, Blueberry
Mature Cheese, Sweet, Fruity, Skunky Tang
4
5
5
4
4
Hot
Stable
1