BLUEBERRY CHEESE AUTO
Taste cheese buds in no time at all with this autoflowering version of our classic Blueberry Cheese.
Cheese x Blueberry x Ruderalis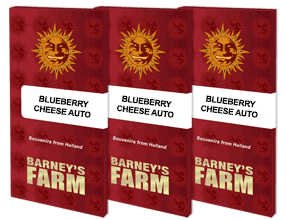 Blueberry Cheese Auto™ Cannabis Seeds
Type: Autoflowering strain
The classic BLUEBERRY CHEESE™ is now available in an autoflowering variant. Originally named Blue Cheese this strain is easy to grow and it's high productivity makes this one of the best autoflowering strains on the market. This ground-breaking strain is the end product of BLUEBERRY CHEESE™ crossed with a unique Ruderalis breeding strain.
BLUEBERRY CHEESE AUTO™ grows with very little effort and will flourish in most conditions; vegetation automatically shifts into flowering in the fifth week. The fragrance and cheesy earthy flavours of the original mouth-watering BLUEBERRY CHEESE™ dominate this autoflowering plant, which will always have you coming back for more.
Blueberry Cheese Auto strain cannabis seeds are sold strictly for souvenirs, storage, and genetic preservation.
Blueberry Cheese Auto™ Cannabis Seeds Strain Specifications
Feminised
Cheese x Blueberry x Ruderalis
Autoflowering
20%
80%
Hot
70 - 75 days
80/100cm
up to 500 gr/m²
up to 100cm
Spicy, Mild Creamy Cheese, Berries, Blueberry
Mature Cheese, Sweet, Fruity, Skunky Tang
Relaxed, Happy, Cerebral, Peaceful, Soothing, Uplifting, Calm
SPECIFICATION
Feminised
Cheese x Blueberry x Ruderalis
Autoflowering
20%
80%
Hot
70 - 75 days
80/100cm
up to 500 gr/m²
up to 100cm
Spicy, Mild Creamy Cheese, Berries, Blueberry
Mature Cheese, Sweet, Fruity, Skunky Tang
Relaxed, Happy, Cerebral, Peaceful, Soothing, Uplifting, Calm