BISCOTTI STRAIN
Get ready to be seduced by the irresistible allure of Biscotti, a cannabis strain that will leave you in a state of pure bliss.
Gelato Strain x Girl Scout Cookies Strain x OG Kush Strain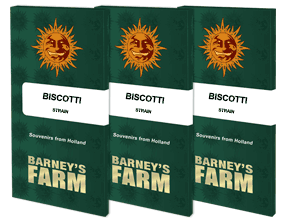 Biscotti Cannabis Seeds
Type: Feminized Weed Strain
Biscotti Strain by Barneys Farm
Introducing the alluring Biscotti, a strain that is sure to tantalize your senses and leave you in a state of pure bliss. Prepare to be seduced by its enticing blend of Gelato, Girl Scout Cookies, and OG Kush, all woven together to create a masterpiece of genetic perfection. The terpenes of our Biscotti strain are a symphony of natural aromas, a sweet, earthy, and citrusy melody that will intoxicate your senses and leave you wanting more. Its irresistible flavor profile is a work of art, a sensual journey that will awaken your taste buds and send you into a world of pure biscuit flavoured ecstasy.
With a THC percentage of 25-27%, this Biscotti strain delivers a powerful and intense high that will quickly have you drifting off to a dreamlike state of relaxation. Its indica-dominant genetics provide a euphoric and calming experience that will have you feeling as though you're floating on air. Not only is Biscotti weed a pleasure to indulge in, but it is also a highly productive strain, with outdoor yields of up to 1.5kg and indoor yields of 650g/m2. Its compact and majestic stature, with an indoor height of 0.9m-1.10m and outdoor height of 1.5m-2.0m, makes it a true wonder of nature that is sure to leave a lasting impression.
Biscotti's flowering time of just 65-70 days indoors and early October outdoor harvest means that you won't have to wait quite so long to experience its seductive effects. Treat yourself to the ultimate indulgence today and let Biscotti take you on a journey of pure pleasure and delight. Don't miss out on this exquisite and unique wonder of genetic evololution - our Biscotti strain is the only temptation you need.
Is Biscotti Indica or Sativa?
The Biscotti strain by Barneys Farm is 20% Sativa 80% Indica.
What is the best way to store my Biscotti strain seeds?
To properly store Biscotti seeds, it is recommended to keep them cool and dark in an airtight container ideally in a refrigerator with proper labeling and dating, avoiding freezing.
What is the best method to germinate Biscotti strain seeds?
There are numerous techniques for germinating Biscotti cannabis seeds if it is allowed in your location. The paper towel method is a common method in which the Biscotti seeds are placed on a damp paper towel and covered with another damp paper towel to keep them moist. After that, keep the paper towel in a warm, dark spot and check on it every day to ensure that it remains moist. When the Biscotti seeds have germinated, gently place them in soil or similar growth media.
Biscotti strain cannabis seeds are sold strictly for souvenirs, storage, and genetic preservation.
Biscotti Cannabis Seeds Strain Specifications
Feminised
Gelato Strain x Girl Scout Cookies Strain x OG Kush Strain
Normal
20%
80%
65 - 70
2nd-3rd week - October
90-110cm
up to 600-650 gr/m²
up to 150 – 200cm
up to 1.5kg per Plant
Rich, Creamy, Sweet Cookies, Sugary Vanilla, Diesel Undertones
Sweet, Spicy, Earthy, Diesel Undertones
Relaxation, Creative, Euphoric, Creeping Full Body Stone
SPECIFICATION
Feminised
Gelato Strain x Girl Scout Cookies Strain x OG Kush Strain
Normal
20%
80%
65 - 70
2nd-3rd week - October
90-110cm
up to 600-650 gr/m²
up to 150 – 200cm
up to 1.5kg per Plant
Rich, Creamy, Sweet Cookies, Sugary Vanilla, Diesel Undertones
Sweet, Spicy, Earthy, Diesel Undertones
Relaxation, Creative, Euphoric, Creeping Full Body Stone