BAD AZZ KUSH
UNWIND YOUR MIND AND TAME YOUR PAIN WITH THIS OUTRAGEOUS INDICA FROM LA
Cup Winner
Original OG x Urkel x Afghan Kush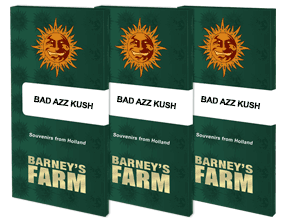 BAD AZZ KUSH™ Cannabis Seeds
BAD AZZ KUSH™ is a strain which was created by breeding a true Indica which is rich in history dating back to 98 in Los Angeles. BAD AZZ KUSH™ originally started life from specially selected breeding by our friends in L.A. over years of careful and persistent work. By crossing the Original OG with Afghan Kush and from there crossing it with Urkel, BAD AZZ KUSH™ was born.
The plant can stretch in the flowering period and will need some space for enormous colas to develop. This is a heavy resin producing strain with enticing and unique dank and subtle forest fruit aromas. We owe a special thank you to our friend and rapper Bad Azz from Tha Dogg Pound Gangsta Crips.
BAD AZZ KUSH™ Cannabis Seeds Strain Specifications
Feminised
Normal
.
Original OG x Urkel x Afghan Kush
Body High, Euphoria, Happy, Relaxing
700 gr/m²
55 - 60
September
3rd-4th week
100/110cm
100/110cm
100/110cm
Medium
100%
100% Indica
Berry, Herbal, Spicy, Sweet
Fruity, Earthy, Pine
SPECIFICATION
Feminised
Normal
.
Original OG x Urkel x Afghan Kush
Body High, Euphoria, Happy, Relaxing
700 gr/m²
55 - 60
September
3rd-4th week
100/110cm
100/110cm
100/110cm
Medium
100%
100% Indica
Berry, Herbal, Spicy, Sweet
Fruity, Earthy, Pine