AYAHUASCA PURPLE STRAIN
Elevate your consciousnes with this extraordinary mouth-watering Indica
Red River Delta x Master Kush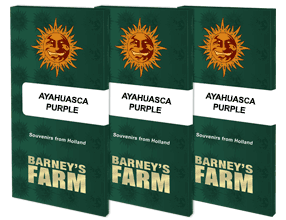 Ayahuasca Purple Cannabis Seeds
Type: Feminised strain
The Farm received a gift of these Red River Delta seeds some years ago. When grown out these incredibly beautiful purple and ruby red plants were a revelation. We then crossed it with our Master Kush and created the perfect strain.
The wide fan leaves and short heavyset structure carry colossal dense buds that will need support in the final week of flowering. This strain has a rich hazelnut and papaya aroma and creates a heavenly relaxing and satisfying effect.
Is Ayahuasca Purple Indica or Sativa?
The Ayahuasca Purple strain by Barneys Farm is 100% Indica.
What is the best way to store my Ayahuasca Purple strain seeds?
To properly store Ayahuasca Purple seeds, it is recommended to keep them cool and dark in an airtight container ideally in a refrigerator with proper labeling and dating, avoiding freezing.
What is the best method to germinate Ayahuasca Purple strain seeds?
There are numerous techniques for germinating Ayahuasca Purple cannabis seeds if it is allowed in your location. The paper towel method is a common method in which the Ayahuasca Purple seeds are placed on a damp paper towel and covered with another damp paper towel to keep them moist. After that, keep the paper towel in a warm, dark spot and check on it every day to ensure that it remains moist. When the Ayahuasca Purple seeds have germinated, gently place them in soil or similar growth media.
Ayahuasca Purple strain cannabis seeds are sold strictly for souvenirs, storage, and genetic preservation.
Ayahuasca Purple Cannabis Seeds Strain Specifications
Feminised
Red River Delta x Master Kush
Normal
100%
55 - 65
3rd-4th week - September
90/100cm
up to 650 gr/m²
up to 90/100cm
Lavender, Mango, Nutty, Tropical
Papaya, Earthy, Flowery, Pungent, Sour, Sweet
Sociable, Euphoria, Happy, Relaxing, Sleepy
SPECIFICATION
Feminised
Red River Delta x Master Kush
Normal
100%
55 - 65
3rd-4th week - September
90/100cm
up to 650 gr/m²
up to 90/100cm
Lavender, Mango, Nutty, Tropical
Papaya, Earthy, Flowery, Pungent, Sour, Sweet
Sociable, Euphoria, Happy, Relaxing, Sleepy