AYAHUASCA PURPLE
ELEVATE YOUR CONSCIOUSNES WITH THIS EXTRAORDINARY MOUTH-WATERING INDICA
Red River Delta x Master Kush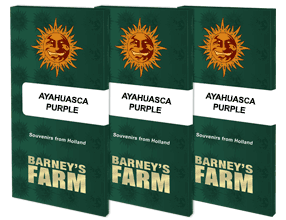 AYAHUASCA PURPLE™ Cannabis Seeds
The Farm received a gift of these Red River Delta seeds some years ago. When grown out these incredibly beautiful purple and ruby red plants were a revelation. We then crossed it with our Master Kush and created the perfect strain.
The wide fan leaves and short heavyset structure carry colossal dense buds that will need support in the final week of flowering. This strain has a rich hazelnut and papaya aroma and creates a heavenly relaxing and satisfying effect.
AYAHUASCA PURPLE™ Cannabis Seeds Specifications
Feminised
Normal
Indoor/outdoor
.
Red River Delta x Master Kush
Sociable, Euphoria, Happy, Relaxing, Sleepy
650 gr/m²
55 - 65
September
3rd-4th week
90/100cm
90/100cm
90/100cm
Medium
100%
100% Indica
No
Lavender, Mango, Nutty, Tropical
Papaya, Earthy, Flowery, Pungent, Sour, Sweet
DISCLAIMER
All cannabis seeds at Barney's Farm are solely for personal use intended only for adults (over 18 years old). We do not supply seeds to large scale or commercial growers. we reserve the right to refuse sale if we suspect this term is being breached.
SPECIFICATION
Feminised
Normal
Indoor/outdoor
.
Red River Delta x Master Kush
Sociable, Euphoria, Happy, Relaxing, Sleepy
650 gr/m²
55 - 65
September
3rd-4th week
90/100cm
90/100cm
90/100cm
Medium
100%
100% Indica
No
Lavender, Mango, Nutty, Tropical
Papaya, Earthy, Flowery, Pungent, Sour, Sweet