AMNESIA LEMON
LIFT YOUR MIND INTO A HIGHER PLACE WITH OUR CUP WINNING ENERGISER AMNESIA LEMON
Cup Winner
Amnesia Haze x Lemon Skunk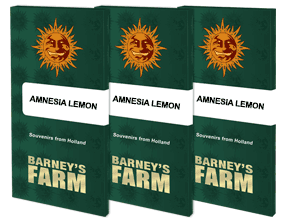 AMNESIA LEMON™ Cannabis Seeds
AMNESIA LEMON™ was created in collaboration with Barneys and the legendary Soma, winning the Cannabis Cup in 2004. Following this huge win Soma passed on his very best phenotype of Amnesia Haze to Barneys Farm Labs. AMNESIA LEMON™ is a delicious blend made by a crossing Amnesia Haze with Lemon Skunk.
The tantalising flavours combined with the power and resilience of both lineages produced this spectacular strain. The uplifting and cerebral high is definitely Sativa and will leaving you wanting more. The AMNESIA LEMON™ has a flowering cycle of just 8 to 9 weeks and grows medium high, with long dense colas.
AMNESIA LEMON™ Cannabis Seeds Strain Specifications
Feminised
Normal
Indoor/outdoor
.
Amnesia Haze x Lemon Skunk
Uplifting, Cerebral
550 gr/m²
60 - 65
October
1st-2nd week
100/110cm
100/110cm
100/110cm
40%
60%
Mostly Sativa
No
Lemon, Spicy, Sweet
Exotic, Earthy, Citrus
DISCLAIMER
All cannabis seeds at Barney's Farm are solely for personal use intended only for adults (over 18 years old). We do not supply seeds to large scale or commercial growers. we reserve the right to refuse sale if we suspect this term is being breached.
SPECIFICATION
Feminised
Normal
Indoor/outdoor
.
Amnesia Haze x Lemon Skunk
Uplifting, Cerebral
550 gr/m²
60 - 65
October
1st-2nd week
100/110cm
100/110cm
100/110cm
40%
60%
Mostly Sativa
No
Lemon, Spicy, Sweet
Exotic, Earthy, Citrus