8 BALL KUSH
LET THE POWER OF THIS KUSHY 8-BALL MASSAGE YOUR PAIN AWAY
Afghanistan x Pakistan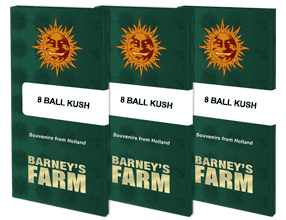 8 BALL KUSH™ Cannabis Seeds
Some of the very best hashish in the world is found between the mountainous border of Afghanistan & Pakistan. After many years of selectively inbreeding superior genetics from this region, we have now got a strain that is very easy to grow, even in the most unfavourable conditions.
This short and sturdy plant is a good choice for both SOG and ScrOG gardens. 8 BALL KUSH™ grows wide, with thick stems and dark leaves that produce dense buds. The flavours all resemble a classic Kush, earthy and musky, with deep spicy accents.
8 BALL KUSH™ Cannabis Seeds Strain Specifications
Feminised
Normal
Indoor/outdoor
.
Afghanistan x Pakistan
Happy, Creative, Euphoria, Sleepy
550 gr/m²
50 - 55
September
2nd-3rd week
Medium
10
80-110cm
80cm
110cm
Medium
40cm
14
14
14
100%
0%
100% Indica
Medium
Yes
Sage, Woody, Sweet
Earthy, Pepper
4
4
5
4
4
20
Cool, Hot & Temperate
Stable
2
DISCLAIMER
All cannabis seeds at Barney's Farm are solely for personal use intended only for adults (over 18 years old). We do not supply seeds to large scale or commercial growers. we reserve the right to refuse sale if we suspect this term is being breached.
SPECIFICATION
Feminised
Normal
Indoor/outdoor
.
Afghanistan x Pakistan
Happy, Creative, Euphoria, Sleepy
550 gr/m²
50 - 55
September
2nd-3rd week
Medium
10
80-110cm
80cm
110cm
Medium
40cm
14
14
14
100%
0%
100% Indica
Medium
Yes
Sage, Woody, Sweet
Earthy, Pepper
4
4
5
4
4
20
Cool, Hot & Temperate
Stable
2